German Wirehaired Pointer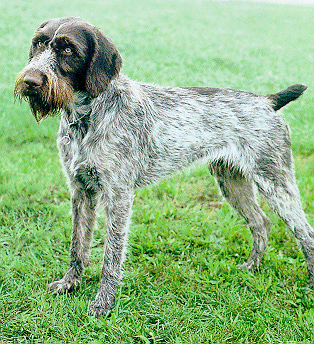 The German Wirehaired Pointer is a well muscled, medium sized dog of distinctive appearance. Balanced in size and sturdily built, the breed's most distinguishing characteristics are its weather resistant, wire-like coat and its facial furnishings. Typically Pointer in character and style, the German Wirehaired Pointer is an intelligent, energetic and determined hunter. The height- of males should be from 24 to 26 inches at the withers. Bitches are smaller but not under 22 inches. To insure the working quality of the breed is maintained, dogs that are either over or under the specified height must be severely penalized. The body is a little longer than it is high, as ten is to nine. The German Wirehaired Pointer is a versatile hunter built for agility and endurance in the field. Correct size and balance are essential to high performance.

Breeders are listed in alphabetical order by state

Back to main page to search another breed


Copyright February 27, 1999. All rights reserved by Web Designs by Diamond.
Please do not remove anything from these pages without owners consent
Using the images to link to the sites are generally permitted, but please email the owner of the site that you would like to add a link to and ask for their permission first. Thank you.

This page was last updated on Thursday, March 18, 1999