Whippet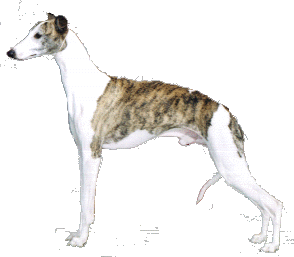 A medium size sighthound giving the appearance of elegance and fitness, denoting great speed, power and balance without coarseness. A true sporting hound that covers a maximum of distance with a minimum of lost motion. Should convey an impression of beautifully balanced muscular power and strength, combined with great elegance and grace of outline. Symmetry of outline, muscular development and powerful gait are the main considerations; the dog being built for speed and work, all forms of exaggeration should be avoided. Ideal height for dogs, 19 to 22 inches; for bitches, 18 to 21 inches, measured at the highest point of the withers. More than one-half inch above or below the stated limits will disqualify. Length from forechest to buttocks equal to or slightly greater than height at the withers. Moderate bone throughout.

Breeders are listed in alphabetical order by state

Back to main page to search another breed


Copyright February 27, 1999. All rights reserved by Web Designs by Diamond.
Please do not remove anything from these pages without owners consent
Using the images to link to the sites are generally permitted, but please email the owner of the site that you would like to add a link to and ask for their permission first. Thank you.

This page was last updated on Thursday, March 18, 1999