Shetland Sheepdog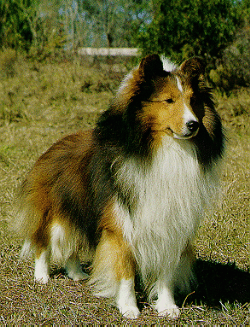 The Shetland Sheepdog, like the Collie, traces to the Border Collie of Scotland, which, transported to the Shetland Islands and crossed with small, intelligent, longhaired breeds, was reduced to miniature proportions. Subsequently crosses were made from time to time with Collies. This breed now bears the same relationship in size and general appearance to the Rough Collie as the Shetland Pony does to some of the larger breeds of horses. Although the resemblance between the Shetland Sheepdog and the Rough Collie is marked, there are differences which may be noted. The Shetland Sheepdog is a small, alert, rough-coated, longhaired working dog. He must be sound, agile and sturdy. The outline should be so symmetrical that no part appears out of proportion to the whole. Dogs should appear masculine; bitches feminine.

Breeders are listed in alphabetical order by state
Banner coming soon
Glenesk Shetland Sheepdogs
Banks (Portland area), Oregon
Glenda Kelly, (503) 324-1872
Local, Nat'l SS Club & AKC referral rep.
E-mail glenesk@juno.com

Back to main page to search another breed


Copyright February 27, 1999. All rights reserved by Web Designs by Diamond.
Please do not remove anything from these pages without owners consent
Using the images to link to the sites are generally permitted, but please email the owner of the site that you would like to add a link to and ask for their permission first. Thank you.

This page was last updated on Friday, March 19, 1999