Schipperke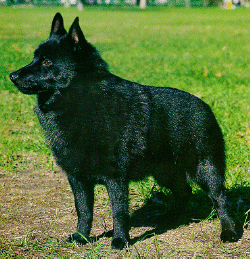 The Schipperke is an agile, active watchdog and hunter of vermin. In appearance he is a small, thickset, cobby, black, tailless dog, with a fox-like face. The dog is square in profile and possesses a distinctive coat, which includes a stand-out ruff, cape and culottes. All of these create a unique silhouette, appearing to slope from shoulders to croup. Males are decidedly masculine without coarseness. Bitches are decidedly feminine without overrefinement. Any deviation from the ideal described in the standard should be penalized to the extent of the deviation. Faults common to all breeds are as undesirable in the Schipperke as in any other breed, even though such faults may not be specifically mentioned in the standard. The suggested height at the highest point of the withers is 11-13 inches for males and 10-12 inches for bitches. Quality should always take precedence over size. Proportion-Square in profile. Substance-Thickset.

Breeders are listed in alphabetical order by state

Back to main page to search another breed


Copyright February 27, 1999. All rights reserved by Web Designs by Diamond.
Please do not remove anything from these pages without owners consent
Using the images to link to the sites are generally permitted, but please email the owner of the site that you would like to add a link to and ask for their permission first. Thank you.

This page was last updated on Thursday, July 05, 2001