Samoyed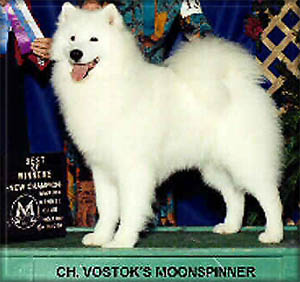 The Samoyed, being essentially a working dog, should present a picture of beauty, alertness and strength, with agility, dignity and grace. As his work lies in cold climates, his coat should be heavy and weather-resistant, well groomed, and of good quality rather then quantity. The male carries more of a "ruff" than the female. He should not be long in the back as a weak back would make him practically useless for his legitimate work, but at the same time, a close-coupled body would also place him at a great disadvantage as a draft dog. Breeders should aim for the happy medium, a body not long but muscular, allowing liberty, with a deep chest and well-sprung ribs, strong neck, straight front and especially strong loins. Males should be masculine in appearance and deportment without unwarranted aggressiveness; bitches feminine without weakness of structure or apparent softness of temperament. Bitches may be slightly longer in back than males. They should both give the appearance of being capable of great endurance but be free from coarseness.

Breeders are listed in alphabetical order by state

Back to main page to search another breed


Copyright February 27, 1999. All rights reserved by Web Designs by Diamond.
Please do not remove anything from these pages without owners consent
Using the images to link to the sites are generally permitted, but please email the owner of the site that you would like to add a link to and ask for their permission first. Thank you.

This page was last updated on Thursday, July 01, 1999