Saluki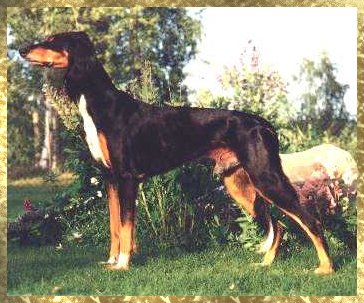 Ch. Dalriada Barzach
The whole appearance of this breed should give an impression of grace and symmetry and of great speed and endurance coupled with strength and activity to enable it to kill gazelle or other quarry over deep sand or rocky mountains. The expression should be dignified and gentle with deep, faithful, far-seeing eyes. Dogs should average in height from 23 to 28 inches and bitches may be considerably smaller, this being very typical of the breed.
Colors: White, cream, fawn, golden, red, grizzle and tan, tricolor (white, black and tan) and black and tan.

Breeders are listed in alphabetical order by state

Back to main page to search another breed


Copyright February 27, 1999. All rights reserved by Web Designs by Diamond.
Please do not remove anything from these pages without owners consent
Using the images to link to the sites are generally permitted, but please email the owner of the site that you would like to add a link to and ask for their permission first. Thank you.

This page was last updated on Monday, January 03, 2000