Maltese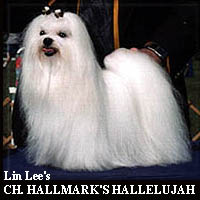 The Maltese is a toy dog covered from head to foot with a mantle of long, silky, white hair. He is gentle-mannered and affectionate, eager and sprightly in action, and, despite his size, possessed of the vigor needed for the satisfactory companion. Color, pure white. Light tan or lemon on the ears is permissible, but not desirable. Weight under 7 pounds, with from 4 to 6 pounds preferred. Overall quality is to be favored over size.

Breeders are listed in alphabetical order by state

Back to main page to search another breed


Copyright February 27, 1999. All rights reserved by Web Designs by Diamond.
Please do not remove anything from these pages without owners consent
Using the images to link to the sites are generally permitted, but please email the owner of the site that you would like to add a link to and ask for their permission first. Thank you.

This page was last updated on Monday, February 18, 2002