Keeshond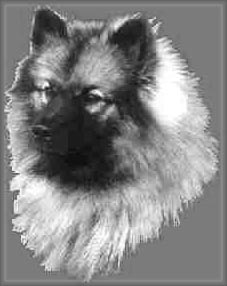 The Keeshond (pronounced kayz-hawnd) is a natural, handsome dog of well-balanced, short-coupled body, attracting attention not only by his coloration, alert carriage, and intelligent expression, but also by his stand-off coat, his richly plumed tail well curled over his back, his foxlike expression, and his small pointed ears. His coat is very thick around the neck, fore part of the shoulders and chest, forming a lion-like ruff-more profuse in the male. His rump and hind legs, down to the hocks, are also thickly coated, forming the characteristic "trousers." His head, ears, and lower legs are covered with thick, short hair. The Keeshond is a medium-sized, square-appearing, sturdy dog, neither coarse nor lightly made. The ideal height of fully matured dogs when measured from top of withers to the ground is 18 inches for males and 17 inches for bitches-a one inch variance either way is acceptable. While correct size is very important, it should not outweigh that of type.

Breeders are listed in alphabetical order by state

Back to main page to search another breed


Copyright February 27, 1999. All rights reserved by Web Designs by Diamond.
Please do not remove anything from these pages without owners consent
Using the images to link to the sites are generally permitted, but please email the owner of the site that you would like to add a link to and ask for their permission first. Thank you.

This page was last updated on Saturday, March 13, 1999