English Toy Spaniel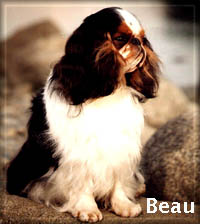 The English Toy Spaniel is a compact, cobby and essentially square toy dog possessed of a short-nosed, domed head, a merry and affectionate demeanor and a silky, flowing coat. His compact, sturdy body and charming temperament, together with his rounded head, lustrous dark eye, and well cushioned face, proclaim him a dog of distinction and character. The important characteristics of the breed are exemplified by the head. The most desirable weight of an adult is eight to fourteen pounds. General symmetry and substance are more important than the actual weight; however, all other things being equal, the smaller sized dog is to be preferred.

Breeders are listed in alphabetical order by state

Ch. Fairoak's Ador-A-Beau
#1 and 2 ETS for 7 years
Fairoaks Kennel
Beavercreek, Oregon
Barbara Latimer PH: 1-503-632-6698
E-mail ENGTOY@aol.com

Back to main page to search another breed


Copyright February 27, 1999. All rights reserved by Web Designs by Diamond.
Please do not remove anything from these pages without owners consent
Using the images to link to the sites are generally permitted, but please email the owner of the site that you would like to add a link to and ask for their permission first. Thank you.

This page was last updated on Tuesday, March 02, 1999