Collies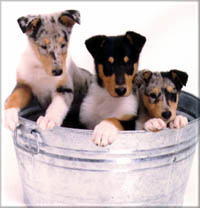 The Collie is a lithe, strong, responsive, active dog, carrying no useless timber, standing naturally straight and firm. The deep, moderately wide chest shows strength, the sloping shoulders and well-bent hocks indicate speed and grace, and the face shows high intelligence. The Collie presents an impressive, proud picture of true balance, each part being in harmonious proportion to every other part and to the whole. Standard for the guidance of breeders and judges is adequate, it could be stated simply that no part of the Collie ever seems to be out of proportion to any other part. Timidity, frailness, sullenness, viciousness, lack of animation, cumbersome appearance and lack of over-all balance impair the general character.

Sites are listed in alphabetical order by States and Countries
Breeder's Web Sites (if available)
Breeder and contact Information

www.pennylanecollies.net
PennyLane Collies
Quad Cities, Illinois
Penny E-mail qccollie@derbytech.com

www.i-love-dogs.com/dog/timeless
Timeless Collies
Augusta, Kansas
Dale & Roxann Heit
E-mail timeheit@aol.com

www.collieworld.com/beddow
Tedjoi Collies
Mt. Airy, Maryland
Ted & Joyce Beddow
E-mail smootmta@aol.com

www.collieworld.com/ncountry
North Country Collies
Swanzey, New Hampshire
Judy & Amanda Griffith
E-mail special@top.monad.net

www.collieworld.com/special
Special Collies
E. Swanzey New Hampshire
Laura LaBounty
E-mail special@top.monad.net

www.collieworld.com/tony
Belle Collies
Toms River, New Jersey
Tony & Dena Barcellona
E-mail bellecollies@netscape.net

www.collieworld.com/luvecho
Luv Echo Collies
Mannford, OK.
Kim & Amber Atkinson (918) 865-7640
E-mail luvecho@hotmail.com
Breeding, Showing & Handling

www.i-love-dogs.com/dog/mistsoavalon
Mist of Avalon Collies
Tomball, Texas
Mark & Sandy Trubisky
E-mail strubisky@houston.rr.com

http://members.nbci.com/meritrue
Meritrue Collies
Essex Junction, VermonT
Sue Bombardier
E-mail SuReBomb@earthlink.net

Home of the #1 Rough Collie
www.collieworld.com/markos
Marko's Collies
Tacoma, Washington
Marie Markovich
E-mail markoscollies@geocities.com

www.collieworld.com/chavanda
Chavanda Collies
Navan, Ontario Canada
Charlene Fritz & Dave Boldt
E-mail chavanda@sprint.ca

http://members.nbci.com/gemstonecollies/
Gemstone Collies
Williamstown, Ontario Canada
Jim & Carol Delorme
E-mail gemstone@cnwl.igs.net

Back to main page to search another breed



Copyright February 27, 1999. All rights reserved by Web Designs by Diamond.
Please do not remove anything from these pages without owners consent
Using the images to link to the sites are generally permitted, but please email the owner of the site that you would like to add a link to and ask for their permission first. Thank you.

This Site was created by:



Visit My Site
This page was last updated on Friday, January 17, 2003