Cocker Spaniel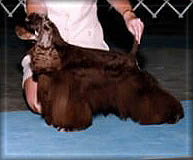 CH. SHADOWCAST IRISH WINDKIST
The Cocker Spaniel is the smallest member of the Sporting Group. He has a sturdy, compact body and a cleanly chiseled and refined head, with the overall dog in complete balance and of ideal size. He stands well up at the shoulder on straight forelegs with a topline sloping slightly toward strong, moderately bent, muscular quarters. He is a dog capable of considerable speed, combined with great endurance. Above all, he must be free and merry, sound, well balanced throughout and in action show a keen inclination to work. A dog well balanced in all parts is more desirable than a dog with strongly contrasting good points and faults. The ideal height at the withers for an adult dog is 15 inches and for an adult bitch, 14 inches. Height may vary one-half inch above or below this ideal. A dog whose height exceeds 15-1/2 inches or a bitch whose height exceeds 14-1/2 inches shall be disqualified.

Breeders are listed in alphabetical order by US State, Country

www.geocities.com/Heartland/Estates/1434
Milor Cockers
Eagle River, Alaska
Mike & Lori Morrison
E-mail milorak@alaska.net

Home of Ch. Sta-Mar's Be Cool
No Web Site Available at this time
NV Cockers
Arnold, Nebraska
Nancy Vickers (308) 848-3327
E-mail nvickers@gpcom.net
No Web Site Available at this time
Cocker Spaniel Breeder Referral Rep.
Crossville, Tennessee
American Spaniel Club Inc. Rep.
Dorothy J. Mustard E-mail mustdo@usit.net
Ph (931) 484-5030 Fax (931) 484-5434

http://www.geocities.com/acuracockers
Acura Cockers
Columbia, South Carolina
Debbie Van Laan
Showing over 12yrs. & Rescue Referrals.
E-mail kdmvl@surfree.com

No Web Site Available at this time
Bar-Mor's Cockers
Canandaigua, New York
Cheryl Barrett (716) 394-5673
E-mail Barmors@aol.com

http://www.windkist-utah.com
Windkist Cockers
Ogden, Utah
Leah Bertagnolli
E-mail lwndkst@aol.com

www.geocities.com/Petsburgh/Zoo/1950
Grateful American Cockers
South Carolina
Adam and Linda Wright
E-mail Fourwrights@hotmail.com

http://www.countrystars.nu/
CountryStars American Cockers
Edmonton, Alberta, Canada
Jill Ozechowski
E-mail jill@countrystars.nu

www.geocities.com/Petsburgh/Farm/6360
Oceanview Perm Reg'd
American Cocker Spaniels
British Columbia, Canada
Tracy Goodall, Breeding/Exhib for over 15 yrs
E-mail oceanview@attcanada.net

www.angelfire.com/pe/shadyhill
Shadyhill Perm. Reg'd Kennels
Nova Scotia, Canada
Jean DeWolfe
E-mail shadyhill@ns.sympatico.ca

www.geocities.com/Heartland/Ridge/4244
Starshall American Cockers
Australia
Lorraine Marshall
E-mail starshall@vic.australis.com.au

Back to main page to search another breed


Copyright February 27, 1999. All rights reserved by Web Designs by Diamond.
Please do not remove anything from these pages without owners consent
Using the images to link to the sites are generally permitted, but please email the owner of the site that you would like to add a link to and ask for their permission first. Thank you.

This page was last updated on Sunday, May 19, 2002