Clumber Spaniel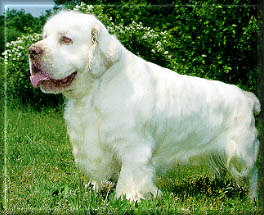 The Clumber is a long, low, heavy dog. His heavy brow, deep
chest, straight forelegs, powerful hindquarters, massive bone and
good feet all give him the power and endurance to move through
dense underbrush in pursuit of game. His white coat enables him to
be seen by the hunter as he works within gun range. His stature is
dignified, his expression pensive, but at the same time, he shows
great enthusiasm for work and play.

(Picture coming soon)

No website at this time

Lagerstroem Kennel
Lawtey, Florida
Richard Harder (904) 782-1327
E-mail harder@daccess.net

Back to main page to search another breed


Copyright February 27, 1999. All rights reserved by Web Designs by Diamond.
Please do not remove anything from these pages without owners consent
Using the images to link to the sites are generally permitted, but please email the owner of the site that you would like to add a link to and ask for their permission first. Thank you.

This page was last updated on Friday, April 30, 1999