Chow Chow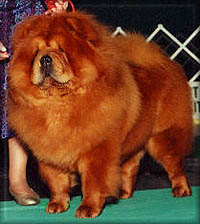 Characteristics-An ancient breed of northern Chinese origin, this all-purpose dog of China was used for hunting, herding, pulling and protection of the home. While primarily a companion today, his working origin must always be remembered when assessing true Chow type. A powerful, sturdy, squarely built, upstanding dog of Arctic type, medium in size with strong muscular development and heavy bone. The body is compact, short coupled, broad and deep, the tail set high and carried closely to the back. The large head with broad, flat skull and short, broad and deep muzzle is proudly carried and accentuated by a ruff. Elegance and substance must be combined into a well balanced whole, never so massive as to outweigh his ability to be active, alert and agile. Clothed in a smooth or an offstanding rough double coat, the Chow is a masterpiece of beauty, dignity and naturalness, unique in his blue-black tongue, scowling expression and stilted gait.

Breeders are listed in alphabetical order by state

Back to main page to search another breed


Copyright February 27, 1999. All rights reserved by Web Designs by Diamond.
Please do not remove anything from these pages without owners consent
Using the images to link to the sites are generally permitted, but please email the owner of the site that you would like to add a link to and ask for their permission first. Thank you.

This page was last updated on Sunday, March 17, 2002