Cairn Terrier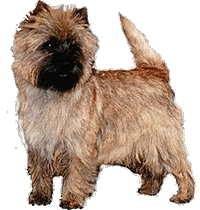 Ch. Rose Croft Best Foot Forward
That of an active, game, hardy, small working terrier of the short-legged class; very free in its movements, strongly but not heavily built, standing well forward on its forelegs, deep in the ribs, well coupled with strong hindquarters and presenting a well-proportioned build with a medium length of back, having a hard, weather-resisting coat; head shorter and wider than any other terrier and well furnished with hair giving a general foxy expression.

Breeders are listed in alphabetical order by state

Back to main page to search another breed


Copyright February 27, 1999. All rights reserved by Web Designs by Diamond.
Please do not remove anything from these pages without owners consent
Using the images to link to the sites are generally permitted, but please email the owner of the site that you would like to add a link to and ask for their permission first. Thank you.

This page was last updated on Sunday, July 14, 2002