ACD Australian Cattle Dog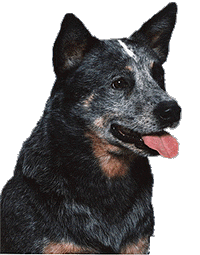 The general appearance is that of a strong compact, symmetrically built working dog, with the ability and willingness to carry out his allotted task however arduous. Its combination of substance, power, balance and hard muscular condition must convey the impression of great agility, strength and endurance. Any tendency to grossness or weediness is a serious fault. As the name implies the dog's prime function, and one in which he has no peer, is the control and movement of cattle in both wide open and confined areas. Always alert, extremely intelligent, watchful, courageous and trustworthy, with an implicit devotion to duty making it an ideal dog. The Cattle Dog's loyalty and protective instincts make it a self-appointed guardian to the Stockman, his herd and his property. Whilst naturally suspicious of strangers, must be amenable to handling, particularly in the Show ring. Any feature of temperament or structure foreign to a working dog must be regarded as a serious fault.

Sites are listed in alphabetical order by states and countries

Back to main page to search another breed



Copyright February 27, 1999. All rights reserved by Web Designs by Diamond.
Please do not remove anything from these pages without owners consent
Using the images to link to the sites are generally permitted, but please email the owner of the site that you would like to add a link to and ask for their permission first. Thank you.

This Site was created by:



Visit My Site
This page was last updated on Tuesday, May 18, 1999